_______________________________________________________
Cutting back on your spending doesn't mean you have to cut back on the romatic evenings with your sweetheart. Check out these
18 Frugal and Romantic Dates
at Home by Wise Bread.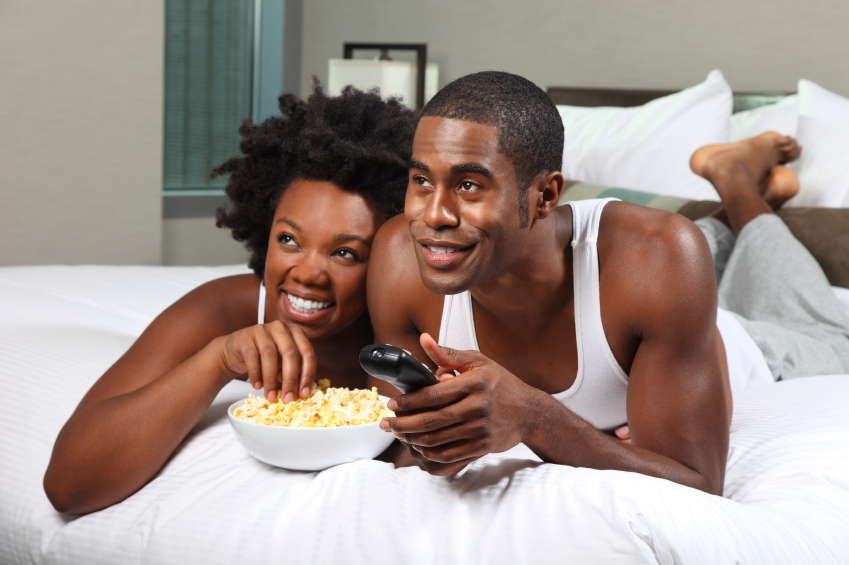 1. Enjoy a Candlelit Dinner
Particularly special if you usually spend the dinner hour cutting up little ones' meat or reminding other "diners" that we do not shout "gross" at the table. My husband and I like to use the occasional dinner for two as an opportunity to order takeout that the kids would hate — like spicy Indian food — or cook something they wouldn't appreciate like filet mignon.
2. Take in a Movie
Watching TV at home with your sweetie might not seem like anything special, but you can ratchet up the sense of occasion by picking a new release movie in advance and stocking treats, like a good bottle of wine and gourmet popcorn. At our house, we find that if we are just browsing Netflix, we tend to pick something short and "easy" like a TV series. To mark those serious dramas off our to-watch list, we need to set a date.
Don't want to make yourself a whole separate dinner? Sometimes that's just too much work. Why not buy something indulgent from that bakery you've always wanted to try, or just acquire some super-special dessert ingredients and make something together? The blog
Couponista Queen
suggests making sundaes at home.
A game, that is. Put out a bowl of chips and sit down with Scrabble or another good two-person game, if you're into that kind of thing. A board game date is great because it forces you to sit down and spend a few hours together without getting distracted. One friend suggested strip Scrabble, but with the length of the average Scrabble game, that sounds...drafty.
When my husband and I started a difficult, many-piece puzzle recently, we found it led to us spending many evenings together, without the benefit of a date plan. We could not stay away from that puzzle until it was finished, and in the process, we had a lot of nice talks and watched a few movies to boot.
Who says dates have to be at night? The blog
Tammilee Tips suggests breakfast in bed
. Prep an indulgent breakfast the night before and either surprise your honey or just treat yourselves. If it's Sunday, stay in bed and do the New York Times crossword puzzle together.
7. Have a "Console-Ation" Date
You can't afford to go out, but you still have a game console. Get it?? Maybe you're the type of couple who loves to mow down terrorists together, but even if you're not, chances are a karaoke game or Just Dance will get you laughing together.
A shoulder rub between spouses may be routine, but again, preparation can up the ante here. Invest in a massage oil with that great minty scent that spas have. Set up the massage area with music and pillows to approximate the desired setting as best you can. Whether you're going for the atmosphere of a pristine spa or a seedy bathhouse is your own business.
If you have a budget for the date, you could use a Groupon for an in-home massage therapist or two to come work on you, suggests Marta Segal Block, blogger at
Advice from Marta
.
Have your own pool? When's the last time you took a moonlight swim for two?
If you live in an area with low light pollution, this could be a nice way to feel like you are getting out — way out — without leaving your property. Borrow or buy a nice telescope to make this really special.
Nowadays, any place within the reach of your Wi-Fi connection can be a movie theater if you have a laptop with a big screen.
Glamour magazine suggests a blanket on the lawn
for your movie night, or try a comfy love seat on the deck, if you've got one.
12. Set Up Your Own Wine Tasting
Boring night in — open a bottle of wine, slug it down between loads of laundry. Date night in — write some keywords from Wine Spectator reviews on a little chalkboard
in front of each bottle
, line up glasses with tastes, swish it around in your mouth and throw around words like "hints of leather."
13. Cocktail Party for Two
Again, a simple drink at home is everyday. But when's the last time you crushed fresh lime for a real mojito or made sangria at home? Pull out all the stops — and the fancy glassware.
If your area allows a fire pit, this is a great way to feel transported without leaving your property.
15. Take an Online Class Together
Did you meet in college? Miss those days when you'd lose track of what the teacher was saying because you were busy making googly eyes at one another? Plug in those laptops and start ignoring the teacher together again.
16. Have a YouTube Festival
You've seen
Maru the cat
with your coworkers, but it's even more fun to laugh with the one you love. Queue up a bunch of short videos on a theme, get comfy, and click "play."
17. Make Something Together
I don't mean like, whoopie. You don't need me to tell you how to do that. I mean:
a craft project
, a batch of cookies, a birdhouse. For some couples, these are fun times. For others (I'm not naming names) a joint project is just an opportunity to practice those "feeling words" your therapist taught you.
What? It was romantic when you were in high school, so why not now? If your house is now full of nosy teenagers, maybe it's time to escape them the way you once escaped your parents. And chances are, you now have more comfortable upholstery.
________________________________________________________
23 weeks in, these simple changes should start to become a habit. These are life changes not just to complete the 52 Week Money Challenge. The goal is to change the way you handle your finances and your life.
Challenge Total Week 23 = $276.00
Saving money is hard. It takes discipline and self-control to stick with the plan you developed. This year why not make it easy on yourself?
I am a huge fan of ING (ING has been bought by Capital One and will become
Capital One 360
. Doesn't look like much will change...). ING lets you automate your savings so you don't have to think about it. The greatest feature is that it takes a couple days to get money transferred back to your checking account. There are a couple ways around this, but not being able to touch the money in your ING accounts is great for medium/long term savings goals.
If you have an ING, or other savings account, simply automate your savings transfers each month according to the chart below and watch the money stack up.
If you don't have a savings account, GET ONE! Not just for this challenge but everyone needs at least one savings account - with an Emergency Fund.
This week 23 should be transferred to your savings account. We are up to $276.00 this year. Things from this point on will start to grow pretty quickly. How are you doing? Any savings light bulbs going off? Have you planned what you are going to do with the money at the end of the year?
Even if you missed weeks 1 through 22, you can still get started today. Deposit $253 into a savings account and you will be caught up.
Keep Up the Good Work!